Axis Knee System offers high-quality knee replacement at 50%-100% cost lower than its commercial counterparts
June 23, 2020
Developed with funding from the Department of Science and Technology-Philippine Council for Health Research and Development (DOST-PCHRD), the Axis Knee System was shown to attain correct mechanical axis on patients while costing 50%-100% less than its competitors in the research article entitled, "Clinical Evaluation of the Mechanical Axis Finder (MAF) by Radiologic Scanogram of 100 Consecutive Axis Total Knee Replacements."
Mechanical axis refers to the proper alignment of the knee to the femural head (highest part of the thigh bone) when moved into different positions.
Published in the Orthopedic Research Online Journal, the article written by Axis Knee lead developer Dr. Ramon Gustilo, Dr. Rupesh Man Sherchan, and Dr. Arlan Troncillo recorded a 93.3% correct mechanical axis rate among 100 procedures that used the mechanical axis finder or MAF, an instrument specific to the Axis Knee System. The MAF is used to locate the proper mechanical axis of the knee which improves functionality and durability of the implant for optimal use of the patient.
The paper also highlights the Axis Knee System as a cost-effective option for total knee replacements in the country. Offering quality performance, it comes at a 50-100% lower cost than existing knee replacements in the country and 200-300% compared to its western counterparts.
The Axis Knee System was developed to address the high cost of knee implants in the country which poses a huge burden to patients in getting treatment. According to Dr. Ilustre Guloy, orthopedic surgeon at the Asian Hospital and Medical Center and one of the developers of Axis Knee System, the cost is a common reason why patients postpone or decline their surgery.
Priced at ₱60,000-₱70,000, the Axis Knee System makes world-class knee implants accessible to more Filipinos. "The Axis Knee System shows the DOST-PCHRD's commitment to making lives better by providing high quality and affordable health solutions through research and development," said DOST-PCHRD Executive Director Jaime Montoya.
The device has been in the market since 2015 through Orthopaedic International Inc. For more information about the Axis Knee System, you may visit this link: http://pchrd.dost.gov.ph/index.php/programs-and-services/create-article/6349-axis-knee-system-confidence-in-every-step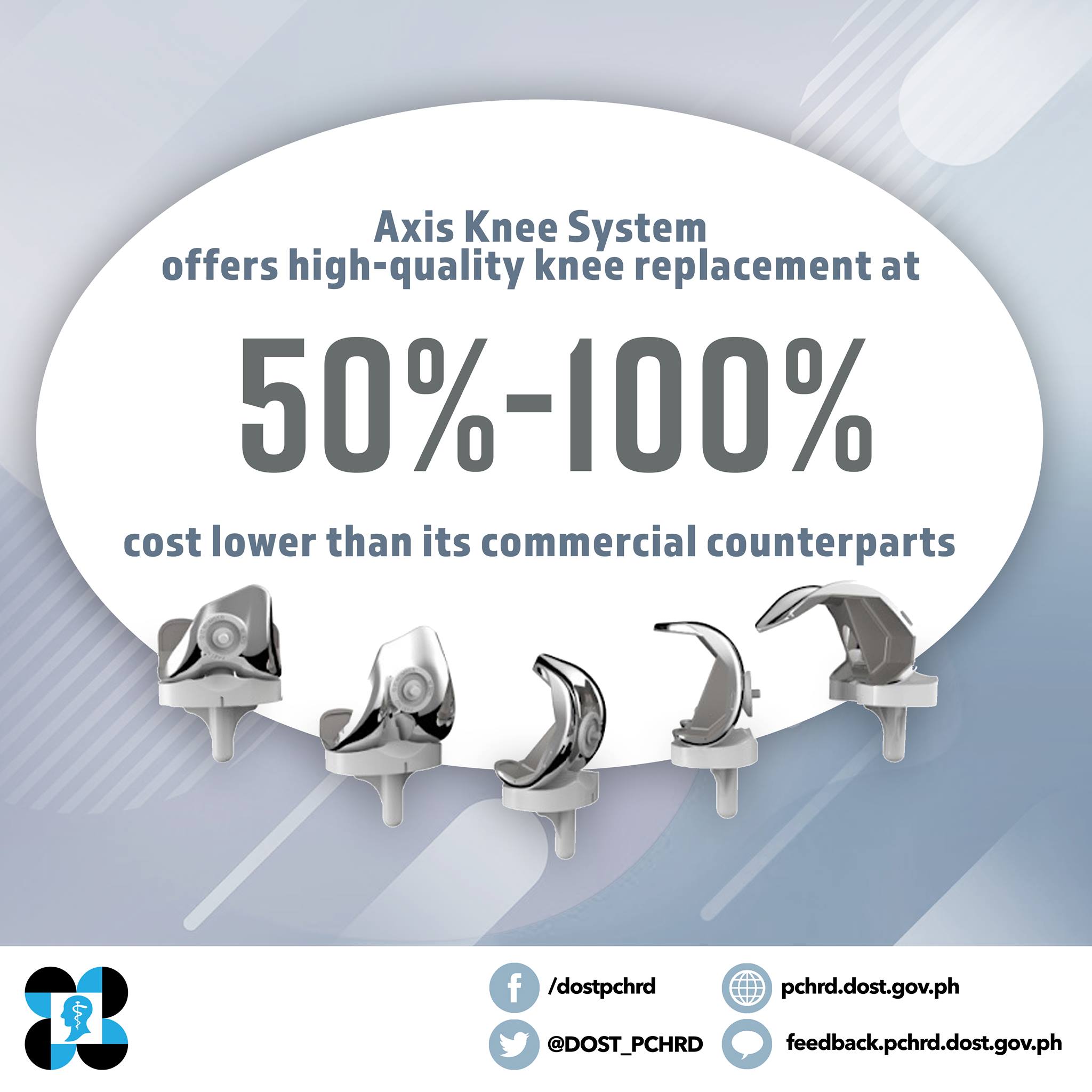 References
Written by Alyana Kaye Bacarra
Published: 23 June 2020