No More 'Going Weak at the Knees'
June 1, 2016
By Espie Angelica A. De Leon
S&T Media Service, DOST-STII
Published in: Health and Lifestyle (H&L) Magazine Vol.15 Issue 6 | June 2016
The only one of its kind in Southeast Asia, Axis Knee Replacement System is slowly gaining popularity due to its innovativeness, cost-efficiency


Senior citizens suffering from arthritis of the knee as well as former athletes who sustained injury during their competitive years, who now need to undergo expensive knee replacement surgery, now have an option.

That option is called the Axis Knee Replacement System, the only one of its kind in Southeast Asia, which has been in the Philippine market since July 2015. It is an innovative total knee replacement system which includes instrumentation that guides the orthopaedic surgeons in every step of the procedure in order to achieve correct alignment and optimal patient specific femoral rotation.

With funding from the Department of Science and Technology-Philippine Council for Health Research and Development (DOST-PCHRD), the Axis Knee Replacement System was developed by a team of Filipino, American, Japanese, and Chinese specialists spearheaded by internationally renowned Dr. Ramon Gustilo of Negros Occidental.


"We are proud to say that the conceptualization is all Filipino engineers and doctors, with consultants from US, China, and Japan. This is a truly Filipino venture," said Dr. Ilustre I. Guloy, Jr., chairman of Asian Hospital and Medical Center's Department of Orthopedic Surgery and a member of Dr. Gustilo's team of specialists.

The Axis Knee Replacement System, which was exhibited in Orlando, Florida a few months ago, is manufactured by Gustilo's Orthopaedic International, Inc. (OII). Based in Cabuyao, Laguna, OII is an ISO 13485-certified facility which has been designing, developing, and manufacturing orthopedic products including trauma, spine and joint replacement systems, for the past 20 years.

Knee system development
Dr. Gustilo narrated how development of the system came about. He said that when he was in the United States, he developed the Genesis I and Genesis II knee systems for Smith and Nephew, one of the biggest orthopedic companies in the world.
The systems were based on studies of Caucasian anatomic dimensions. Later when he came back to the Philippines to stay for good, they downsized these knee systems to adapt them to Asian patients.
Another problem they encountered was that instrumentation was complicated, considering that operating rooms in the Philippine hospitals, especially in government hospitals, are smaller than those in the US. Patients also found the surgical procedure to be too expensive.


"We had nine boxes of instrumentations," said Dr. Gustilo. "But still, there was no way of obtaining the right axis."

"So we developed the Navigation System-an expensive computerized imaging system in the operating room to guide the surgeons to get the correct axis. But it was cumbersome and it delayed the operation," he continued.

He then brought up with DOST the idea of developing a knee system for Filipinos. In particular, what the doctor wanted to have for his fellow Filipinos is something that is accurate, easy to use, and affordable. Luckily, DOST provided funding.

"Normally to develop a new knee system in the States, it would cost me USD 25M-USD 30M. Our goal was, if we can develop a knee system in the Philippines for USD 5 million or less, we'll be way ahead," he said. "Luckily, the DOST agreed to fund part of it."

Three years later, the plan has come into fruition. Dr. Gustilo and his team's Axis Knee Replacement System has been in the market since 2015 and as of this writing, 65 patients have undergone surgery using it.
An innovation in knee surgery
A knee implant has three components: the femoral (thigh) component made if a highly polished metal alloy, the tibial (shin) component made of polymer sometimes held in a metal tray, and the patellar (knee cap) component which is also made of polymer.

The Axis Knee Replacement System is made of similar materials. Yet, it has many features that make it unique from existing systems, which Dr. Gustilo and his team believe will have better patient satisfaction and outcome.
Among these are its instrumentations. The system consists of three trays of instruments - a total of more than 50 instruments all in all - in contrast to important knee systems which consist of six to nine trays of instruments.

These instruments are like hand tools and they are specific to the Axis Knee. Its function is to make sure the knee implant will fit within the cut portion of the bone.

They include devices that resemble a hammer and pliers. They also include a cutting block with slots where the surgeon inserts the saw blade to make the right cut in the bone.

There are Pin Applicators which will work hand in hand with the threaded pins which allow a firmer hold on the bone, a Center Locator which places the first pin on the knee, and of course, the Mechanical Axis Finder which locates the true mechanical axis of the lower extremity in both the coronal and sagittal planes.
"In our system, instead of that expensive Navigation System, we designed the Mechanical Axis Finder to position the cutting jigs properly with respect to the anatomy of the patient so that the cutting jig will be attached correctly and consequently, so that the cut surfaces will be perfectly aligned with the axis and the knee implant will fit." explained Engr. Jude Sasing, one of the experts who conceptualized and helped develop the Axis Knee Replacement System and president of OII.

In addition, the instrument does not violate the IM Canals of the femur and tibia, thus reducing bleeding and risks of fat embolism.

Weighting about 9 kilograms, the Mechanical Axis Finder was designed to be stable so that it won't wobble or move during surgery. It is portable, easy to use, accurate, cost efficient, and autoclavable as well.

In many hospitals around the world, a computerized navigation technology is used to locate the axis. Only a few hospitals in the Philippines have this equipment.

Computerized navigation systems also cost more than Php 20 million and add at least Php 20,000 to the total cost of surgery.

"This is really a new concept for other surgeons. Others use a complex electronic systems to do that. So far, with our limited experience of more than 60 cases, it works," Mr. Sasing added. "The patients are very happy, the surgeons are happy."

Another unique feature is the use of the Soft Tissue First Technique, a cutting-edge surgical technique that involves performing soft tissues releases first before the bone cutting process so that the correct alignment will be achieved. This technique allows the surgeon to determine patient-specific femur rotation, flexion, extension space, and implant sizes before bone cutting is performed. It also allows bone cutting to be performed without changing the patient's knee position and changing cutting blocks. Based on feedback from surgeons who have performed it, this lessens OR time and reduces risk of infection.

The knee implant itself is innovative. It boasts of a clinically driven design with implant geometry based on an analysis of more than 800 anthropometric data points and more than 100 published articles.

It also achieves 130 degrees of flexion, 4 degrees of adduction and abduction, and 15 degrees of transverse rotation. A well-designed knee implant, if placed or aligned correctly, can last up to 20 years.

Knee implants imported from the United States and Europe cost between Php 100,000 to Php 120,000. While the materials are the same, their local counterpart costs about P6,000 in government hospitals and Php 70,000 in private hospitals.

"The lower research and development cost is one reason [for the cost-efficiency], explained Dr. Gustilo. "In the States, the cost in hospitals is also too expensive."

Surgeon training
The technology also makes it easier to teach orthopedic surgeons to perform the surgical procedure.

Orthopedic surgeons ordinarily need a year or two of trainig in joint replacement after a four-year residency. But with the Axis Knee Replacement System, they can do total knee replacement after training for five days through lectures and hands-on sessions with bone models.

A lot of surgeons have already undergone training - in Makati, Dumaguete, Cebu, La Union, and Muntinlupa - particularly at Asian Hospital, among others. After training, surgeons will be assisted by a member of Dr. Gustilo's team. After that, they're on their own.

According to Dr. Guloy, they continue to fine tune the technology, particularly the instrumentation. "All systems must have improvement," he said. "Even if it's already working well, there is always a way to make it even betetr. That is actually our goal."

Other plans

Dr. Gustilo's other plans include a program that will allow orthopedic surgeons in Manila to go to the town of Manapla in Negros Occidental to have a front seat view of an actual knee replacement operation by Dr. Gustilo himself, and even get the chance to assist him.

Another plan is to establish a training program for medical students, hopefully with the help of DOST.

The group is also working on an objective clinical study of 100 cases and published it, to show the world that the locally developed surgical technique works.
"We're doing the protocol now, then we'll be meeting with the surgeons who will be involved. We might complete the study by end of the year," said Mr. Sasing.
Truly, the future looks bright for Philippine medicine as far as knee replacement surgery is concerned, for the patients and the orthopedic surgeons as well - more so if more surgeons are willing to be trained on the Axis Knee Replacement System. As such, greater number of Filipinos will no longer "go weak on the knees" and instead, have a better way of life through a cutting-edge, high-quality yet cost-effective surgical technique developed by their fellow Filipinos.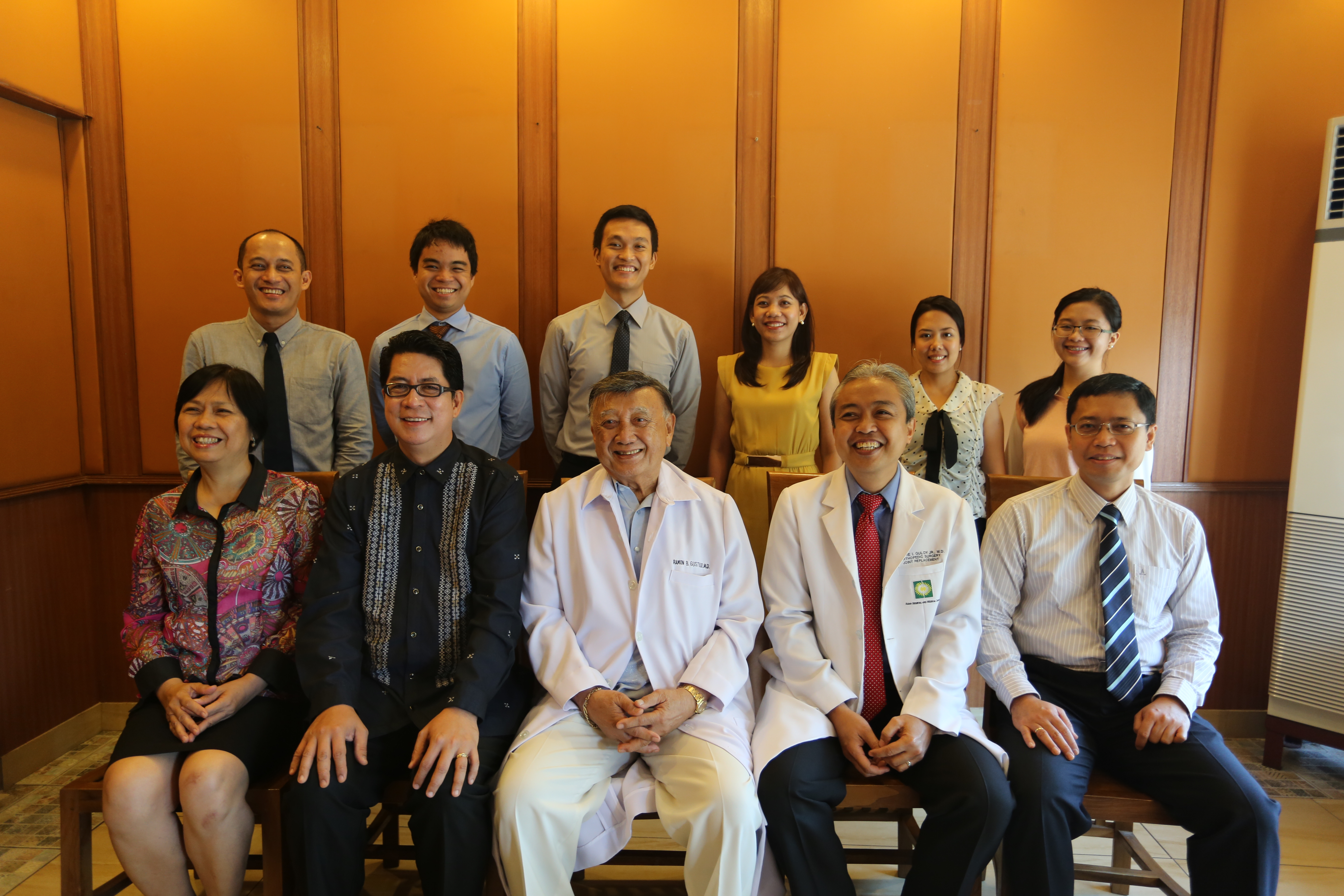 (Seated, from left) PCHRD Division Chief Merlita Opeña, PCHRD Executive Director Dr. Jaime C. Montoya, OII Chairman Dr. Ramon Gustilo, OII Consultant Dr. Ilustre Guloy Jr., OII President Mr. Jude Sasing. (Standing, from left) OII Engrs. Jesus Muñoz, Rainier Natividad, Kevin Bancud, PCHRD Supervising Science Research Specialist Roselle Martonito, OII Documentation Specialist Precious Page, and OII Engr. Jonna Marie Sapiter (Photo Courtesy of PCHRD-DOST)