DOST showcases PH-designed knee replacement
August 1, 2016
by The Manila Times
Source: http://www.manilatimes.net/dost-showcases-ph-designed-knee-replacement/277329/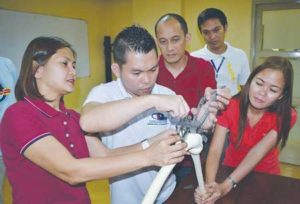 HOME-GROWN KNEE REPLACEMENT Staff of Orthopedic International, Inc. conduct hands-on training on surgical techniques using various instruments of the Axis Knee System. The Philippinedeveloped knee replacement system will lower costs and reduce the risk of implant failures for patients, according to the DOST. PHOTO DOST
A LOCALLY-DEVELOPED knee joint replacement system will soon lower cost and reduce the risk of implant failure for Filipino patients, according to the Department of Science and Technology (DOST).

The Axis Knee Replacement System, which was developed by Orthopedic International, Inc. with funding from the DOST Philippine Council for Health Research and Development (DOST-PCHRD) was unveiled at an open house exhibit last week at the SM Mall of Asia Atrium.

Knee replacement surgery is a common orthopedic procedure that has been performed for more than 40 years around the world, and is considered one of the most successful procedures in terms of eliminating pain and reducing disability for arthritic patients, the DOST explained in a statement.

In a knee replacement procedure, damaged cartilage and bone are surgically removed from the weight-bearing surfaces of the knee and replaced with artificial components made of metal and plastic.

What is considered unique about the Axis Knee System, according to the DOST, is that it is a "total knee replacement system" that includes instrumentation and surgical techniques to enable surgeons to perform the procedure accurately and eliminate the possibility of implant failure.

According to Dr. Ramon Gustilo of Orthopedic International, Inc., the reason for the high cost of knee replacement procedures in the Philippines is that the implants are all imported from Europe and United States. Dr. Gustilo also pointed out that to qualify to perform the procedure, orthopedic doctors have to take specialized training overseas for one year.

Dr. Gustilo said that with the development and commercialization of the Axis Knee Replacement System, the cost of knee replacement procedures in the country can be drastically reduced because the components are manufactured locally.

Knee implants in the US and in Europe cost the equivalent of P100,000 to P120,000, while the Axis Knee System components will cost P60,000 to P70,000 in the Philippines.

Dr. Gustilo said that in order to perform surgeries with the Axis Knee System, orthopedic surgeons would undergo a five-day training session.